Where Should We Eat?
This is a question asked by everyone who is contemplating eating out. Everyone has favorites but you can't eat at your favorite restaurant ALL THE TIME - after a while it would get boring to eat at the same place again and again.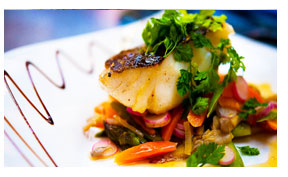 With so much choice in great restaurants in the Seattle area, choosing one depends on what you are looking for specifically, e.g. are you looking for a romatic evening of fine dining, or group dining to celebrate say a birthday or office party, or are you looking for late night dining or happy hour restaurants that also offer great beer or wine selection, or are you looking for kid-friendly restaurants or great breakfast places, or catering service for a large group, etc.
Below we have listed some featured choices depending on what you are looking for. Some of them are no doubt your favorites, which you have not visited recently. We also introduce you to new restaurants that you have not yet tried, which we think - and hope - that you will have a wonderful experience of dining. So Bon Appetit and have a great time with your friends, family and loved ones. Drop us a line and tell us about your dining experience.
Today's Feature:
Coolest Coffee Houses

"Caffé Vita is like the heart and soul of Capitol Hill"
Caffé Vita with its friendly atmosphere, local artwork and blogger crowd are sipping incredible coffee, with about 2 dozen blends including "organic". There are many convenient locations all around Seattle, including Capitol Hill, Fremont, Queen Anne, Pioneer Square, Phinney Ridge, and Seward Park.
Read more »
Best Group Dining

"The lovely outdoor area is perfect for brunches"
Bastille is one of the more popular late night restaurants in Seattle. Located in Ballard, it offers delicious French cuisine and house cocktails. Great for groups who want variety to please everyone from delicious steak frites, moules frites, local oysters, daily fish specials, including Washington-caught salmon.
Read more »
Best Late Night Dining
"Great late night atmospher and great tasting food"
13 Coins offers not just great food for late night dining/entertainment with live music or comedy show, but also amazing pesto clams, chicken patties with hash browns, chicken parm, T- bone steak, delicious seafood pasta with French bread, crispy calamari, veal parmigiana, and yummy appetizers that melt in your mouth!
Read more »