Hormones and GMOs in our food supply
America one of the most advanced and wealthiest nations on earth is also one the sickest nations. But how could that be possible and what has happened along the way that the health of a nation has been comprised for the sake of few corporate elites and profit?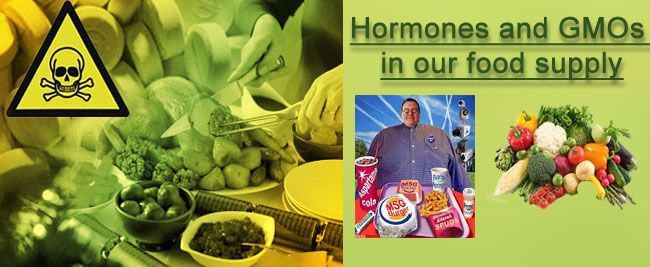 How come all of a sudden it has become normal to accept the increasing number of chemicals, pesticides, wastes and toxins in our food supply, water and cosmetics? And how did we as a nation started to accept the scam of agribusiness industry to secretly genetically modify our foods or add harmful chemicals and factory wastes to our water and food supply or cosmetics?   
Evolution of hormone in our food supplies:
Majority of livestock in the states are fed synthetic hormones that can increase the amount of estrogen that we consume in foods. Estrogen is an important hormone for female reproductive system and development of female sexual hormones. Estrogen also helps to control bone growth and cholesterol levels. Too much estrogen has been linked to breast, prostate and endometrial cancer. Humans are exposed to synthetic hormones when they consume animal's meats that are injected with rBGH or rBST growth hormones. Hormones can increase the chances of cancer, thyroid disease, diabetes, obesity, infertility, asthma and allergies.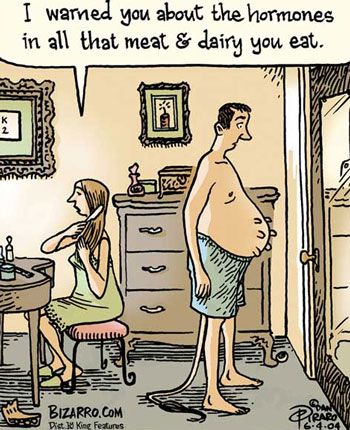 Hormones also find their way into our food supply via crops that are sprayed with pesticides or chemicals. They also exist in form of hormone plastic additives in baby bottles, infant formulas and food packaging. No wonder why we see an epidemic of hormone imbalances in women and young girls.
Somehow girls at the age of 5 or men in their 40s are now growing breast! The recent studies show that young girls at the age of 10 are developing puberty.
Heavy metals including fluoride, chlorine, mercury, arsenic and BPA in our food supply:
You might not be surprised to know that arsenic is constantly added to chicken's diet by food industry. Fluoride and chlorine are both added to water supply and all farmed fish or even wild fish excluding wild sockeye salmon have high levels of mercury and toxins in them.
Toxic additives including high fructose corn syrup added to almost every processed food contains mercury. Lead, mercury and harmful chemical wastes are even added to cosmetics, sprays and makeup.
Bisphenol A is a toxic chemical used for plastic water or baby bottle and 93% of humans contain BPA endogenously.  
Secret Genetically Modified Organisms in our food supply:
Foods are genetically modified when the genes of one specie is inserted into DNA of another specie. In order to genetically modify foods you need to create non-equilibrium to artificially manipulate, modify or change foods in their cellar levels.  By all means creating a non equilibrium can change and mutate over time. No one has really done any research to find out the endless possible reactions between genetically modify organisms and rBGH growth hormones in our body. The results might not be predictable at the moment and over time can even result in change of bone structure and DNA of human beings.
How should you know if you are purchasing pesticide ridden foods or GMOs?
Purchasing certified organic foods or finding a local farm that applies organic practices is the only way. The good news is that the organic industry has been growing in the last decade and more and more people are becoming aware that the foods that they are eating are making them sick. So why not joining the organic movement today and enjoy a life drug and pain free?
National community initiative to create the first ever nutritional system to synergize with the practice and living of yoga.
Certified organic coconut water
. Collaborative platform for people inspired by yoga!
Did you know parasites out rank cancer as deadliest killer Worldwide? Autointoxication is potentially a deadly condition that occurs when colon health is ignored.
Learn More Organica Colon Cleansing and Anti-Parasite Digestive Support
People are now asking for Over-the-Counter Organic Medicine that is both USDA Certified Organic and an FDA Registered homeopathic drug.
Learn more about: the booming Organic Medicine market.
USDA-certified organic and raw hand-peeled cacao beans from Ecuadorian Arriba are great source of antioxidants, minerals, and fiber.
Learn more about Superfoods Raw Peeled Cacao Beans.
Raw Organic foods that include Live-enzyme Superfoods from the purest unprocessed foods that have all their precious nutrients intact.
More on raw foods.
Can managing Facebook get easiers? I guess it can.
Facebook Management Tools.
Everybody needs someone to help them with small odd jobs, from computer fixing to help with a wide range of things.
Hire someone to help you with small tasks on a easy-to-manage contract basis.
Lose weight, reduce stress and transform your life through plant-based nutrition... FREE!
Join Thrive!
Organic and fair clothing, sustainability, environmental and social responsibility.
Check out the latest fashion!
.
Eco-conscious furnishings and accessories.
What are sustainable flatware?
Organic premium and natural products for pets, manufactured in-house.
You never heard of holistic, natural dog and cat food! Now you have.
Herbs, Foods, Bath, & Complete Aromatherapy Oils.
Ahhhh, now that's relaaaaaxation.
House of Nutrition brings people a wide range of products and supplies for their nutritional well-being.
See products list.
Eco-friendly and bio-degradable Mattresses?
Here's what you could get!
Mighty Leaf crafts the most flavorful and delicious artisan blended teas.
award-winning tea pouches ... Tea Lovers, Savor
Touch of Europe brought to US and Canada!
Browsed and bewildered!
Herbal Teas, Herbal Tincutres, and Organic Wellness Oils.
Nature's Inventory
Organic Bouquet - Eco-Friendly Flowers & Gourmet Gifts!
See what's popular today!
Flower Delivery for someone special?
Send love of flowers!
Find your way through life with a little help.
Where is your life's compass?