Toxic ingredients in anti-aging creams like 'Meaningful Beauty' are not 'Meaningful' or 'Beautiful'. What the cosmetic industry won't tell you is the fact that 'fountain of youth' is in your garden, and you could wear it for life
I usually do not watch TV, but this morning when I was at the gym, I accidently saw the advertising for Cindy Crawford's signature cream called 'Meaningful Beauty'. I have to admit that the ad is done in such a smart way that I bet millions of women would buy these products for the supposedly miracle cream that promises younger looking skin through skin rejuvenation ingredients.
Apparently, Meaningful Beauty products are based on a formulation developed and patented by Dr. Jean-Louis Sebagh. The main focus of the ad is the revolutionary discovery of a magical rare French melon. It seems that the melon extract in Meaningful Beauty products is taken from a rare form of "cantaloupe charentais", which is grown only in the south of France.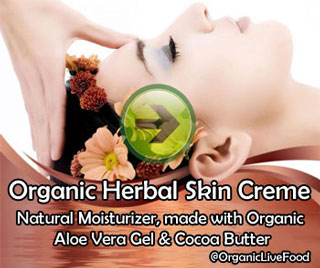 Meaningful Beauty describes this ingredient as "a rare French melon that stayed fresh and firm much longer than similar varieties. This melon contained a powerful "first generation" antioxidant (superoxide dismutase), which preliminary studies suggest, prevents the formation of new free radical species. By utilizing this first generation antioxidant, Meaningful Beauty's formulas are designed to help protect your skin against the visible signs of aging in a remarkable way."
You would hope that the cosmetic industry would finally come to its senses by manufacturing a facial cream that has powerful antioxidants of natural foods, without using any harsh chemicals:
The cantaloupe fruit by itself is an excellent source of vitamin A that can promote healthy skin and even fight against diseases like lung and oral cavity cancer. Cantaloupe is also a rich source of powerful antioxidant flavonoids such as beta-carotene, lutein, zea-xanthin and cryptoxanthin that can protect the skin against oxidative and free radical damage.
According to Meaningful Beauty website, Charentais melon has even more antioxidants known as super-antioxidant called superoxide dismutase, or SOD than regular melon. SOD is also referred to as a "youth molecule" for its miraculous age-defying properties than regular cantaloupe and SOD helps this rare French melon to stay fresh and firm with time. Find out why effective protection against oxidative damage requires increased levels in the antioxidant SOD: http://www.seattleorganicrestaurants.com/vegan-whole-food/superoxide-dismutase-SOD-can-reduce-stress-boost-bodys-antioxidant-defense-by-reducing-cellular-damage.php
So far so good, right? Not really, when you start reading the cancer-causing carcinogens and other harsh chemicals in Meaningful Beauty products:
We have told our readers for many years now that if you cannot eat it, don't use it on your skin. It only takes 26 seconds for all the harsh chemicals to get absorbed into your bloodstream via your skin. Skin is the largest organ in your body, and it's IMPOSSIBLE to achieve a healthy looking skin just by a magical lotion. Main contributing factors to health and beauty are diet, exercise, environmental pollution and toxins, and stress. In fact, you could tell by a person's skin if they are eating French fries, fried foods, sugary foods or beverages, processed foods, cooked foods (with high temperature) or inflammatory foods (like dairy, meat, or white bread/rice) on a regular basis.
So, let's take a look at all the ingredients in one of the Meaningful Beauty products (although other products of Meaningful Beauty have pretty much the same harsh chemicals):
Meaningful Beauty® Maintenance 2 Night Cream:
Isononyl Isononanoate: Although Isononyl Isononanoate leaves you with a silky feeling on your skin, a 2008 study by the Department of Dermatology at a Belgium University shows that Isononyl Isononanoate is the new cosmetic allergens.
Ethylhexyl Palmitate: Although it's not classified to be potentially toxic or harmful (because no one wants to spend enough time or money to test these ingredients), it's been linked to organ toxicity, allergies and skin irritation.
Sorbitan Oleate: Sorbitan Oleate is a monoester of oleic acid and hexitol anhydrides derived from sorbitol and it might not be highly toxic, but it has been linked to organ toxicity and mild skin irritation.
Mineral Oil (Paraffinum Liquidum): Great stuff! The same oil that goes inside your car engine is used in women's cosmetics, because of its viscosity. Mineral oil can be hidden under different names and is a derivative of petroleum that can block pores in the skin and increase the risk of allergies, skin rashes and even tumors.
Propylparaben , Phenoxyethanol , Methylparaben, Benzyl Benzoate, and Benzyl Salicylate: Although many studies have linked Parabens with breast cancer in women, the cosmetic industry could not care less that different derivatives of Parabens  are commonly used in cosmetics, skin care products, sunscreens, deodorants or antiperspirants. In fact, 99% of breast cancer tissues have this alarming level of Parabens.
Glycerin: Glycerin dries up the skin from inside out by drawing the moisture from the skin and holding it to the surface.
Toxic ingredients in other Meaningful Beauty products:
Octinoxate also known as octyl-methoxycinnamate: A 2004 study published in the Journal of Investigative Dermatology has linked this chemical with breast cancer.
Avobenzone:  Avobenzone is derivative of benzophenone that's mainly used for sunblock. Avobenzone can block UVA and UVB rays, but when it's exposed to UV light, it could start a free radical chain reaction that could cause cancer.
Propylene Glycol: Propylene Glycol is a form of mineral oil (also used in brake and hydraulic fluid and industrial antifreeze) that prevents escape of moisture or water. Propylene Glycol has been linked to skin irritation, liver and kidney damage and allergies.
This is my favorite one: Hydrogenated Vegetable Oil:  Partially Hydrogenated Vegetable Oil is made by reacting vegetable oil with hydrogen. When this occurs, the level of polyunsaturated oils (good fat) is reduced and trans fats are created. Partially Hydrogenated Vegetable Oils have been linked to heart disease, breast and colon cancer, atherosclerosis and elevated cholesterol.
PEG-6 Stearate, PEG-32 Stearate, PEG-75 Stearate: Lovely PEG has been linked to cancer, developmental and reproductive toxicity, contamination, organ toxicity, and skin irritation. A study published in the International Journal of Toxicology shows that PEGs can contain harmful impurities like Ethylene Oxide, known to increase the incidences of uterine, brain, or breast cancers, and leukemia. Here is more info about PEG: http://www.seattleorganicrestaurants.com/vegan-whole-food/ingredients-in-burn-creams-silvadene-silver-sulfadiazine.php
What the celebrities and supermodels won't tell you is the fact that the whole thing is based on absolute delusion and lie:
I really have a hard time believing that Cindy Crawford would use these toxic ingredients on her skin, and if she does, she is an idiot. What these celebs won't tell you is the fact that the look that you see is made for them by using toxic cosmetics (that could give you instant satisfaction, but are very damaging to your skin long term), airbrushing or Photoshop. In fact, it was Cindy Crawford that once said "I wished I looked like Cindy Crawford".
Have you ever thought why men age more gracefully? Aging isn't TABOO:
Advertising sells products, but at the same time it sells values and concepts about love and life. To some extent advertising tell us who we are and what we should be. We need to become aware that despite what the society tries to convince us, aging isn't a taboo for women and we don't need to hide it.
There is NOTHING wrong for a woman in her 40s to look like a woman in 40s. When it comes to skin health and beauty, the giant cosmetic and skin care corporations are making billions of dollars off of cheap petroleum-based products and known carcinogens linked to breast cancer and organ toxicity.
Despite shameful lies and preposterous claims of the giant cosmetic and chemical industry, the fountain of youth is in your garden, and you could wear it for life:
Annette Larkins is among many people in the world who are vegan and rawfoodists. Ann is in her 70s but she feels young, healthy and energetic. The secret to her health, youth and vitality isn't pharmaceutical drugs or cosmetic lotions filled with harsh chemicals and known carcinogens, but her organically grown garden.  Ann grows all her own food and collects rainwater that she drinks and water the plants with. She also juices all the fruits and vegetables that she grows. Her food is raw, unprocessed, and uncooked.
Ann says 'My diet consists of fruits, nuts, vegetables and seeds. I do a lot of sprouting of seeds and as you can see from my garden and of course, these are the raw foods that I eat. I am very vibrant, I have lots of energy, as I told you before, I am up no later than 5:30 in the morning as a rule, and I am ready to go: https://www.youtube.com/watch?v=O6oJA_xhTa8
Sources:
http://www.lef.org/magazine/mag2006/jun2006_report_sod_01.htm
http://www.natures-skin-and-body-food.com/Organic_Skin_Care_Magazine-Cindy-Crawford-Review.html
http://www.dailymail.co.uk/femail/article-2108935/Annette-Larkins-vegan-diet-Woman-70-defies-ageing-process-vegetables-rainwater.html